Phytotechnology Projects
These are past, present and future projects that use phytotechnologies to remediate contaminants. This list functions through continued user input. Please consider submitting your project to this database and returning frequently to update your data. This database is searchable- see the search function in the right-hand column.
You will also find other information and databases relevant to projects on our Resources Page.
A group of angiospermous herbaceous plants were assayed for symptomatic foliar changes in response to RDX contaminant levels found in soils of military ranges. Among five species selected for testing on the basis of RDX tolerance, only prickly sida (Sida spinosa) exhibited foliar symptoms upon exposure. At plant maturity red patches were produced in the leaf margins and interveinal chlorosis developed. Other members of the family Malvaceae are used to produce a red tea rich in anthocyanins. Because of these symptoms, there is potential for using prickly sida as a cost effective field and laboratory indicator of RDX contamination and for RDX phytoremediation.
Contaminant categories: Explosives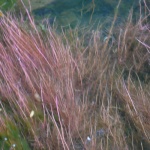 Liz Rylott and Neil Bruce (York), Sharon Doty and Stuart Strand (Univ. of Washington), Antonio Palazzo (US Army, USA CRREL) The toxic explosive hexahydro-1,3,5-trinitro-1,3,5-triazine (RDX) is both resistant to degradation and highly mobile through soils and ground water and, as a result of this, RDX is now a significant threat to drinking sources such as those close to the US Massachusetts Military. We have demonstrated that Arabidopsis expressing bacterial RDX degrading enzymes remove and degrade saturating concentrations of RDX from soil leachate. We are currently transferring this technology into selected perennial wheatgrass species for the phytoremediation of RDX from soil leachate.
Contaminant categories: Explosives
If you are involved in a project that would interest the Phytotechnology community, please click the link below to fill send us all of the information. Once our editors have reviewed the project as relevant to the IPS it will be available to the public on this website.
Submit your project »
Become an IPS member today